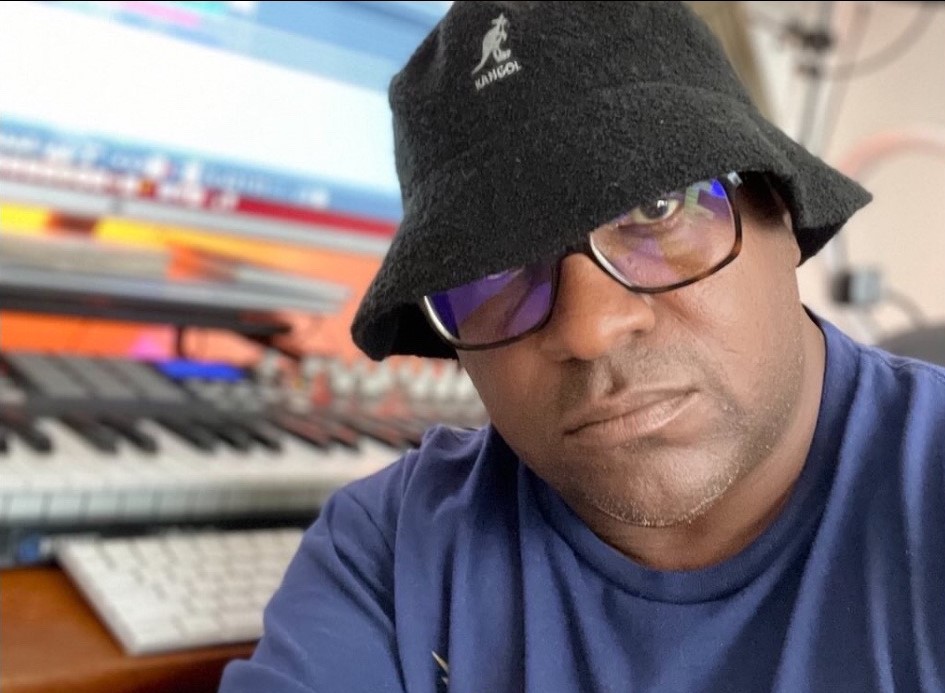 After receiving a Bachelor's Degree in Business at 49 years of age, Grimey Chops continues to lay the groundwork for the next generation of aspiring artists with his signature production style. He recently sat down with Marty McFly to chop it up, and here's how it went down.
---
When did you start producing music, and how did you get your start?
Being around since the conception of Hip-Hop, I was always fascinated with its creative process. DJing was my first introduction to the culture. I would attempt to add scratches to GrandMaster Flash's "Scorpio" (1982) record using my parent's box turntable set.
Fast forward to 1994, when I purchased my SP1200 drum machine/sampler combo, my production style resembled A Tribe Called Quest. Growing up in a household where my father frequently played jazz music, I instantly fell in love with the tribe's sound. As the years progressed, my style changed from Boom Bap to Trap and Reggaeton, back to where I felt most passionate, gritty Boom Bap beats.
---
How would you describe your production style?
I consider it authentic 90s-style sample chopping with a modern twist and added vintage plug-ins. My signature style of beat-making is made for artists to find a unique flow that will separate them from their peers. The goal is to create a song that blends both the lyrics and beat together to create that vibe no one else besides that artist can flow on successfully. In my early years of producing, my focus was solely on making hot beats. I later changed my thought process and focused on creating a well-structured song that would resonate better with listeners. 
Today the artist is my top priority, so I construct beats to highlight their many attributes. When I go into the lab to make a new track, I create an emcee persona and try to envision how they would rap over the beat. This method helps me set the vibe and gives my beat structure.
---
What producers inspired you?
Mantronix (1985): made beats on the pinnacle TR-909
Q-Tip: use of heavy drums and jazz vibes. He reminds me of Red Bull & Vodka (hard and smooth at the same time).
RZA: soulful and grimey beats
Dj Premier: just pure raw-ness
Prince Paul: blending uncommon samples.
---
Can you name a few artists you've worked with recently?
Frame The Great (NC)
Rhyme Equals Greatness (Bronx)
Supreme Intellect (NC)
Hazz (UK)
Matlock (Honolulu)
Comic (Detroit)
Pablo Nava (Denver)
---
How is 2023 going to be different?
Focusing more on finding solutions for artists with low monthly streams and followers. Increasing my engagement and providing information (marketing) to help them develop.  
Making artists aware of the importance of marketing and how a beat purchase with me includes Grimey Chops as a team member. If an artist has under 1k monthly listeners, I will help create a marketing strategy and provide resources to get them on a professional path. However, it's up to the artist on how serious they are about their music.
Continue to build a community of like-minded artists, producers, and fans of Boom Bap that support the Hip Hop culture.
---
Is there anything else you would like to share with the people?
Hands down, I'm a lover of culture. I'm on Spotify daily, listening to underground Hip-Hop and scoping out new talent. It's the fuel that continues to drive my passion forward. Stay tuned, we got more on the way.
---
For more music-related news and business inquiries, follow Grimey Chops by clicking on the links below.
SPOTIFY | YOUTUBE | BEAT STORE
Jason Soto is a HipHop enthusiast with love for everything generated by the culture. He fell in love with music during the first decade of his life and spent most of his teenage years as a DJ. He began to dabble in writing and rapping after being introduced to battle rap and found the art form to be extremely exciting and innovative. As an adult, his own personal interest has lead him to become a freelance columnist, a HipHop ghostwriter, and a cover art designer.