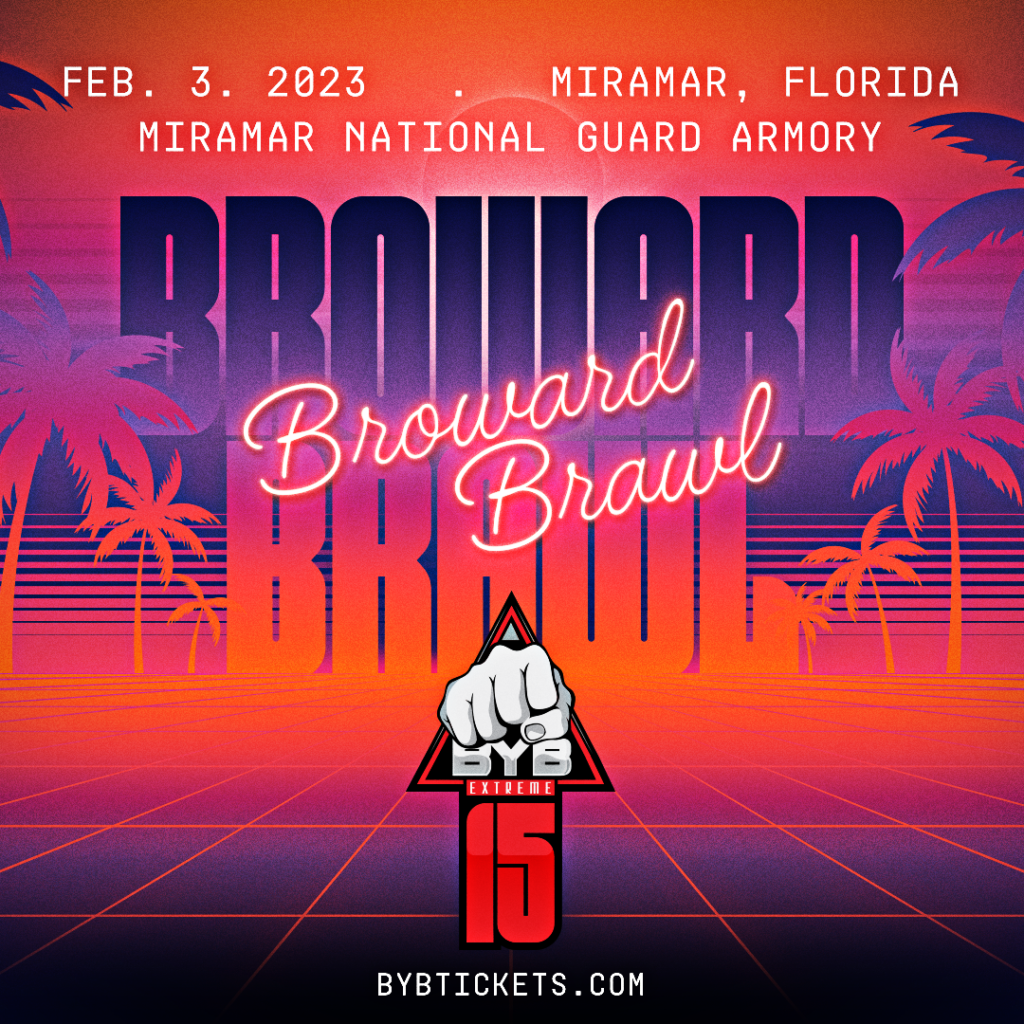 BYB 15 goes down February 3 at the Miramar National Guard Armory in Miramar, FL
It began in the backyard of Dhafir "Dada 5000" Harris at his West Perrine Greenhouse, was developed by Miami businessman Mike Vazquez, and is led by combat sports veteran Gregory Bloom. Now after its historic 2022, the Miami-based BYB Extreme Fighting Series has announced several initiatives for 2023 with all roads leading to Miramar, Florida for BYB 15: Broward Brawl.
Advertisement

According to Bloom, who took over CEO duties from Vazquez this past September, BYB will launch its 2023 campaign on February 3 at the Miramar National Guard Armory.
As a community-based combat sport that originated in poverty-ridden West Perrine, BYB has created a blueprint for upstart combat sports to achieve mainstream popularity, as BYB has become known for its signature triangle ring and hardcore knockouts.
##>
In a landmark year for bare-knuckle boxing as a sport, BYB achieved several ground-breaking accomplishments to push their brand to the forefront of combat sports fans' attention. Among those achievements BYB
?  Hosted the first-ever sanctioned women's bare knuckle event in UK history;
?  Hosted he first-ever women's championship match in UK History;
?  Hosted the first-ever bare knuckle fighting event in South Carolina history;
?  Broadcasted on OTT and OTA platforms through Sinclair Broadcast Group's Stadium
?  Hosted the return of live professional sports to Trump National Doral Miami following the PGA's withdraw in 2016;
?  Three executives – Vazquez, Harris and Matchmaker Mel Valenzuel were inducted into the Bare Knuckle Boxing Hall of Fame in Belfast, NY.
Said Bloom, "2022 was an incredible year for our company, and 2023 is already looking to dwarf those accomplishments. After our kickoff at home in South Florida this February, in the first half of 2023, BYB will put on a pair of international shows on two separate continents, an exhibition in a new state and in one of the country's top DMAs, and roll out a handful of disruptive partnerships that are sure to realign the fight sports landscape."
In addition to the already thriving platform of bare-knuckle fights, BYB will be enlisting Splash Life Booking International, led by Dollah Dae, to bring in celebrities for ringside and special guest appearances on future fight nights and associated events.
For more information on BYB check out https://bybextreme.com/
Tickets are on-sale now at bybtickets.com