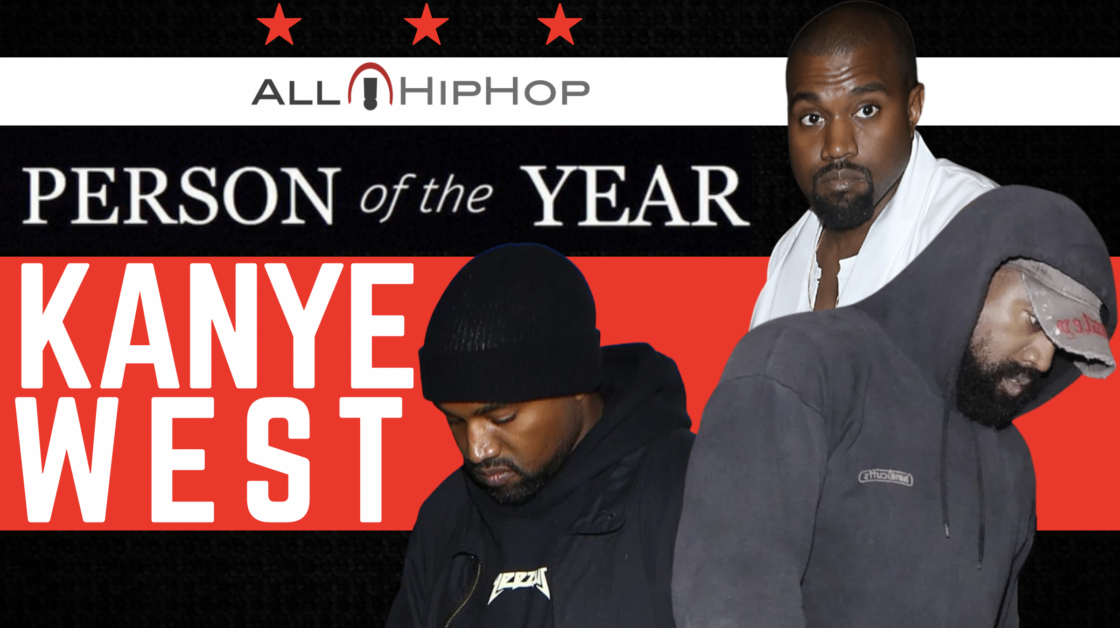 By Houston Williams This year was not an easy decision. As a team, we deliberated, debated, and disagreed. Some of us felt this person should be rooted in music, culture and explicit (albeit subjective) positivity. Others felt it should be based on mainstream impact, sales, or popularity. But ultimately we went with a great disruptor, […]
By Houston Williams
Advertisement

This year was not an easy decision. As a team, we deliberated, debated, and disagreed. Some of us felt this person should be rooted in music, culture and explicit (albeit subjective) positivity. Others felt it should be based on mainstream impact, sales, or popularity. But ultimately we went with a great disruptor, influencer and even oftentimes purveyor of disgusting notions. For this reason, our 2022 Person of the Year is Kanye West. 
For better or worse, Kanye West was inescapable. It was as if the world either profoundly loved him or loathed him. We sharply agreed or disagreed. Depending on the lens, the Chicago native was a stark raving madman with a propensity for bi-polarity or a genius who's mind has been freed from the shackles of conventional thought. He offended just about everybody. Even his "dragon blood" bud Donald Trump put distance between himself and Ye. And yet, somehow Yeezy managed to strike an affirmative chord with his supporters. He even gained new supporters for his polarizing views.
West became an imperfect mouthpiece for the insurgent voices disgruntled with just about everything. When he rallied against Adidas, the fashionisto was dropped by the athletic apparel giant. The ensuing loss of billionaire-status rippled into other companies like Chase and the one-time Ye-friendly Balenciaga, among others, turned down business with the human lightning rod. What ever his intent was, it was not clear. That did not stop his constituents from attaching meaningful maxims to his actions. And, to his credit, he had people talking about real issues that face Black American. But, capitalism, inequities, cultural vulturism and other matters didn't truly line up properly since West was a beneficiary of nearly every thing he seems to rally against. 
But, it was not simple. Straight up, Kanye West – the dude that made a song called "Jesus Walks" – openly fraternized with white supremacists. He openly praised Hitler, saying the German mass murderer had done some "good" things and espoused wretched, blatant anti-semitic rhetoric. He promoted "White Lives Matter" merch at his Paris fashion show, but gave them to homeless people when he found that two Black men owned the rights to the phrase. He falsely asserted that unarmed George Floyd died from a drug overdose when it was then-Minneapolis police officer Derek Chauvin's knee on-Floyd's-neck-for-nine-minutes that did the demonic deed. Kanye has apologized, offended, recanted, explained all in a ball of confusion. And that is just the tip of the top of the iceberg.
One thing was clear, Kanye West dominated all forms of media, press, views and conversations. And in an attention-based economy, this is priceless. The only thing is, the cost was too high. And if there were issues that needed addressing, then shame on us for not tackling these matters sooner. 
Towards the end of 2022, Kanye West lowered his profile and quieted his presence greatly. Hopefully, 2023 is a better year for us all and we begin to take care of our collectively mental, spiritual and financial well-being. Only then can we pour it into more positive, results oriented outcomes.