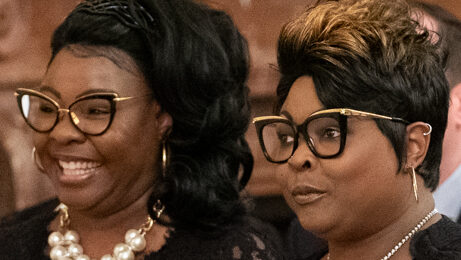 President Donald Trump has announced on his social media platforms that one of his high-profile Black supporters, Lynette "Diamond" Hardaway from the MAGA-maniac duo Diamond and Silk, has died.
Advertisement

She was only 51.
#45 said her death was "really bad news for Republicans," a remark that seemed to acknowledge the importance she was as a marker of diversity in his campaign.
Trump made his comments on his Truth Social platform, writing, "Our beautiful Diamond of Diamond and Silk has just passed away at her home in the state she loved so much, North Carolina."
"Silk was with her all the way, and at her passing. There was no better TEAM anywhere, or at any time! Diamond's death was totally unexpected, probably her big and precious HEART just plain gave out. Rest In Peace our Magnificent Diamond, you will be greatly missed!" he continued. 
On the Twitter account set up to promote both Diamond and Silk, it said, "The World just lost a True Angel and Warrior Patriot for Freedom, Love, and Humanity!"
A crowdfunding campaign has been started by Silk; however, it is unknown if the money raised is going to bury her or start some sort of scholarship in her name. So far, they have raised a little under $40,000.
The world was introduced to the pair in 2016 when they left the Democratic party and demonstratively started to support Trump on their YouTube channels and at his rallies.
There's been no word on how she died. Some people suggested that COVID-19 was the cause of death, a salacious claim considering her anti-COVID rants were so outrageous she and her sister were fired from FOX News, The Hill reports.
Her sister, Rochelle "Silk" Richardson has not made a public remark as of this publishing.