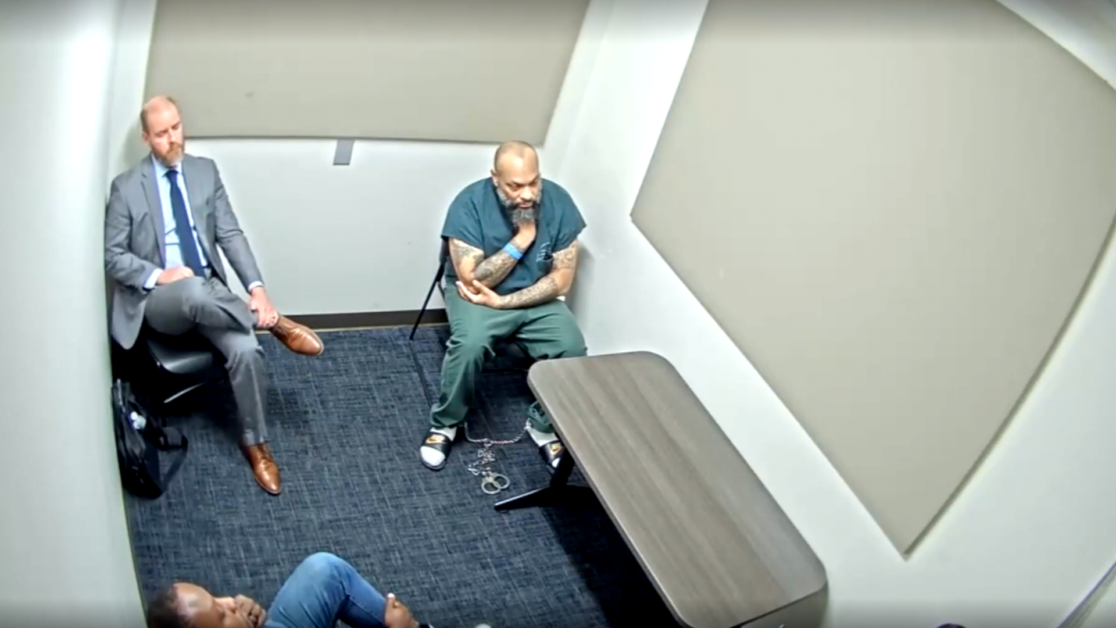 Video of rapper KSOO's father identifying him as the shooter in Charles McCormick  Jr.'s murder has been released by the State Attorney's office.
Advertisement

Robinson Sr.'s testimony could be seen as incriminating to four men (Dominique Barner, Hakeem Robinson, Leroy Whitaker, and Abdul Robinson Jr.), facing murder charges in not just McCormick's murder but others, as previously reported by AllHipHop.com.
When the highly redacted video opens, the prosecutor asks him about his nickname and he confirmed he had two, "Blue" and "Big Dog."
He also said that he calls one of his co-defendants, his son Abdul Robinson, Jr., by his name "Karim." When asked if Karim also goes by the nicknames "Lil Blue" and "Krazy K," the father says yes … correcting the prosecution on the correct way to say his junior's street name.
The interrogation eventually turns to KSOO, whose real name is Hakeem Robinson.
The father gives details on a bunch of different things, including how he and other members of his family used phone numbers linked back to a dead friend's account.
He then talked about a song from a rapper from an opposing crew that dissed their crew. The father said he spoke to both his sons about the songs and neither of them liked them. This song will come up later in his testimony.
In the video, the father talks about everything from his son wanting him to pick up their friend Scotty to a time when he saw his co-defendants gathered after a car crash but his son, Hakeem, was not with them.
Robinson Sr.: "I kept asking them 'Where Hakeem at?'" That's when they told me he hopped out the car and ran another way."
Prosecutor: "What do you remember them specifically saying?"
RS.: "They crashed the car. The police was chasing them. Keemy jumped out the car. They went one way and they went the other.
P: Did they say that Hakeem Robinson, Keemy, had anything when he jumped out the car?"
RS: "Yes. They said he had a gun with him… they said they left a gun behind in the car."
During this section of the interview, the father stated that Scotty, the guy he had once picked up, actually shot another man over some of the diss songs on the internet.
In a 22-interrogation-minute video,  Abdul Robinson, his dad, is questioned about an Instagram story in which he referenced the victim.
According to a warrant, KSOO posted a video of the deceased rapping with a caption saying "Byeeee byeeee" with waving hand emojis, according to a warrant. Then KSOO posted a video in his story showing the rapper getting  a pedicure in a nail salon with the caption "Kill a n**** than go get my toes done."
The social media post enraged the elder Robinson, causing him to confront his son and ask him to take it down.
He said in that moment, his son did not deny it was a post about McCormick's death. This was not all that he said.
Prosecutor: "You said that was on a story?"
Robinson Sr.: "Yeah, an Instagram story."
P: "And was that something that was posted by Hakeem Robinson?"
RS: "Yes, sir."
P: "And when you saw that were you upset?"
RS: "Yes, sir."
P: "Did you reach out and try to speak to Hakeem Robinson?"
RS: "Yes, sir."
P: "And when you spoke to him what did you tell him?"
RS: "Take that [expletive] down."
P: "Did he deny being involved when you told him to take that down?"
RS: "No."
The prosecutor then showed the father a video. Like a canary, the father continued to sing.
Prosecutor: "Now as a part of discovery of this case, you've had an opportunity with your attorney to watch what I will refer to as a dash cam video that actually recorded the murder of Charles McCormick. Is that correct?"
Robinson Sr.: "Yes, sir."
P: "Did you recognize the shooter?"
RS: "Yes, sir."
P: "Who was the shooter in that video?"
RS: "Hakeem Robinson."
P: "Your son Hakeem Robinson."
RS: "Yes."
The father said he could tell it was his son by the shoes he had on in the video.
With all the talk about snitching, it seems that Papa Robinson takes the case. Court records show he took a plea deal where he could face up to 20 years.
Barner, Robinson Jr., Robinson, and Whitaker are all awaiting trial in the death of McCormick.