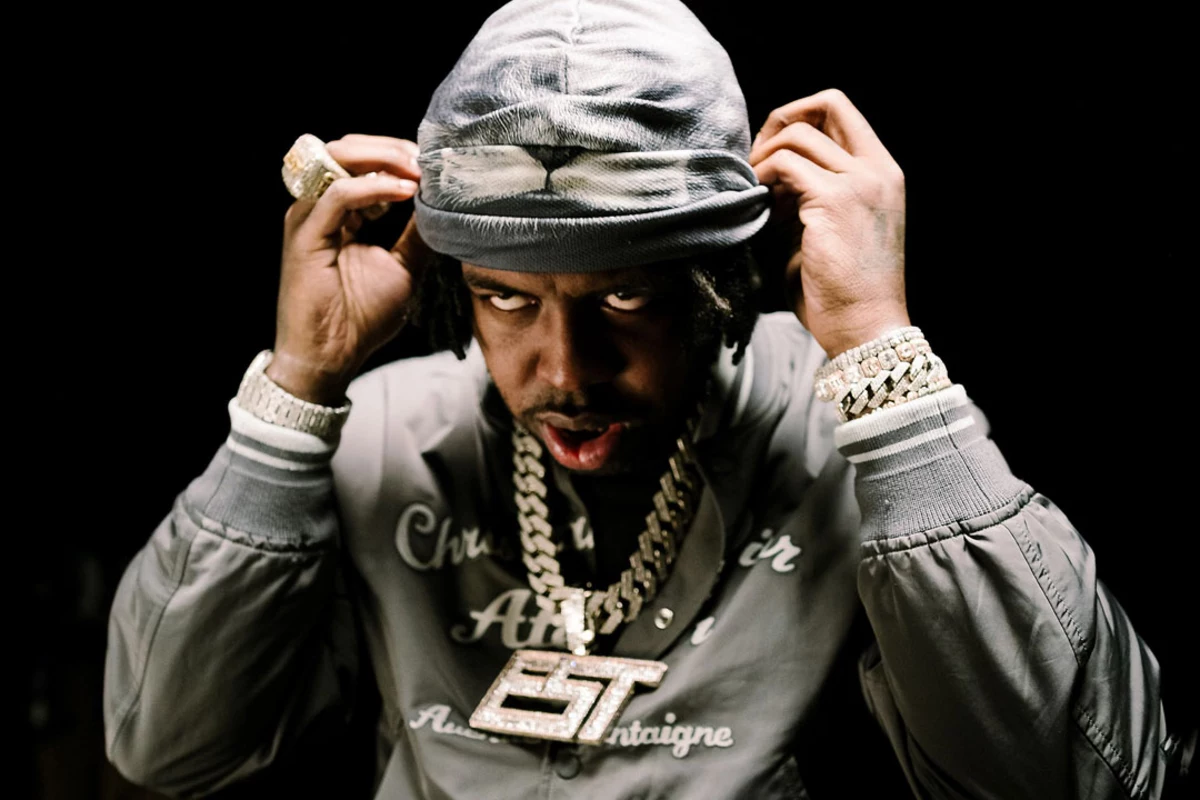 Keep It Goin'
After taking the leap from local Kentucky rapper to respected artist rising through the game, EST Gee's mission remains far from over.
Interview: Robby Seabrook III
Editor's Note: This story will appear in the Winter 2022 issue of XXL Magazine, on stands now.

EST Gee knows discipline is a major key to success. Back in 2016, he was serving time in prison for drug trafficking charges, not yet aware of the illustrious rap career that lie ahead of him. Then while on house arrest the following year, he began to release records. As a skilled rhymer who describes the flash and sorrow that comes with hustling, Gee forged ahead, even as tragedy struck him.
Music and misfortune followed the Louisville, Ky. native, who dropped his first project, El Toro, in 2019. By the following year, three more projects came—Die Bloody, Ion Feel Nun and I Still Don't Feel Nun—he was shot five times (once in his eye) and dealt with his mother's and brother's deaths. But that didn't knock Gee off course. His steely approach to rapping, paired with a solidified street image, on songs like "Special Remix" with Moneybagg Yo and "Ball Forever" moved him onto the national scene.
Naturally, labels showed interest. In 2020, EST Gee, born George Stone III, signed to his manager Nigel Talley's Warlike Records and partnered with Yo Gotti's CMG/Interscope Records the next year. A Lil Baby collab on "Real As It Gets" a few months later only made Gee's stock soar. He kept the bars flowing with Bigger Than Life or Death and its 2021 deluxe, the joint project Last Ones Left with 42 Dugg and the debut album I Never Felt Nun, both arriving in 2022. Gee may not have been feeling anything, but his fans certainly were.
During dinner at Sei Less in midtown Manhattan on a December evening, EST Gee discusses his rap trajectory so far, plans for his EST (Everybody Shine Together) label and new sports agency, music and more.
XXL: Your career has been on a consistent rise over the last few years. How does that make you feel?
EST Gee: I ain't said, "Damn, this crazy" yet, for real. There's things that I wanna do specifically that I ain't done. Regardless of what happens around them things, I don't know what feeling that is, like accomplishment? I guess that's gon' come when them things happen. All the stuff around it might be good, but it ain't that.
Is it being in pursuit of something?
Yeah. It's something else that I'm tryna get and I think [with] the music, I'm just narrating my life. As long as I keep living, I'll keep being able to make music. I don't think about stopping or nothing like that. That's my little thing for right now that I do.
Maybe as more and more stuff is going on, my 'nother thing might be my thing to do, but for right now, it's just rapping. I'm just living. I'm still tryna get to where I'm supposed to be. It's just, I'm passing through.
As your career has gone on and the spotlight on you has gotten bigger, have you noticed people treating you differently?
The bank. Shit be different than a muthafucka. I could text 'em and tell 'em to do something, they gon' do it. Whatever I tell 'em to do, they gon' get it done like I'm right there. The bank don't close at 5.
You've played your future goals close to the chest. How far away do you think you are from accomplishing them?
I don't know, 'cause I be feeling like sometimes I be getting close to some shit, then something happens or you just look at it for real and you just like, Yo, I ain't really close. So, it just be like continuous cycle of that. I failed before, so, I know as long as it's not over, it's not over.
You dropped your well-received debut album, I Never Felt Nun, last September. Do you feel like fans get where you're coming from or just put their own meaning on it?
The people just grab what they relate to or what they would like to relate to. So, [they] just make it they own thing.
What makes you comfortable with how fans interpret your music?
Because sometimes artists are very particular about how their music is heard. Ain't the Mona Lisa supposed to be the best-looking painting or something like that?
Yes.
So, you think that?
No.
So, however you take it is fine, because you thinking it don't change the history on it and what it's worth. Live in the flesh, take it how you want, 'cause it is what it is.
What do you think of the Mona Lisa?
I respect it. I don't judge it. It's in history. Once something's in history, you gotta respect it.
In addition to your own music, you have EST the label. Can you share some info on that?
Right now, it's EST Skimike. He was on "Never Scared" on me and [42] Dugg's tape [Last Ones Left]. I got a joint venture with Alamo [Records], wit' them two, EST Lil Mike and EST Skimike. Both of them from the city. Lil Mike, he's gon' be on the compilation [album]. It's gon' be like his grand introduction. EST Marti, he's gon be on the compilation, too, along with two other artists, EST Donnie and EST Zo, but they both locked up. We got the female that I'm thinking about doing something with in Chicago and then I got another joint venture with APG, with an artist named Leaf Ward from Philly.
I'm just tryna provide a large-scale outlet in my city for all the artists to come out and be seen as an asset to the community. Like how they got JobCorp in Kentucky, and that's like a thing. They have JobCorp commercials. They go to schools and say, "Go to JobCorp!" But what if we went to school and told them how to work in this business, not even just as an artist. I'm tryna legitimize it, not just having artists signed. That's easy.
If your people rap, that's what they wanna do. I feel like that's a big thing, but we sell lifestyle anyway, so, the music gon' sell itself. If I can build a business off the back of lifestyle, that can just sustain as many people, I feel like that's a good thing, and that's what we tryna do.
Was building up EST always the plan?
That was always the goal from the beginning. There's a whole lot of us. EST, everybody got the same goal. We tryna put each other on. That's our mission statement. We just embodying the mission statement.
You also revealed that you're working on representing pro athletes.
We got a sporting agency that we starting, EST, kind of a play on the words. And our first athlete we gon' sign this year is J.J. Weaver. He play for Kentucky. He a D [defensive] end. He got six fingers. He a freak of nature.
Then we got the executive branch of EST that we starting, a consulting company. It's gon' help people facilitate better deals for they self or help 'em get in deals.
Do you feel more at peace about life since becoming more successful in rap?
Nah, I don't feel no peace. I just know that I can control my reaction and that's where the power is at, in controlling it. 'Cause I can't control the outside variables. I can only control how I react to it and how they see me react to it. I'm disciplined.
Were you always disciplined like that or did you have to learn that?
I think you learn discipline. I don't think none of it's born. That's why everybody ain't disciplined. I learned it after…belt to ass. That's where I learned it at. See when I say shit be over? That'll teach you discipline, once something over. Then you think different: Do I wanna get this again? Once you sit and do work, that's developing the discipline.
You recently posted a video to Instagram where you asked for help with your eye since you're losing vision in it. What made you share that vulnerable moment and did anyone actually help?
I wasn't even thinking. I was just like, I wonder if it's a herb somewhere in the Amazon forest or something I can rub on my shit. I was looking for somebody to tell me something special, 'cause I already had surgery. I ain't get too much of that. But I got some people who did they research, so, I was hitting them back, but that all end up being the same thing. I don't know if I'm tryna do no 'nother surgery, 'cause I could fuck it all the way up to where it be over with.
It's cool that people reached out. It just shows that they love you.
Muthafuckas kept saying, "Drink some alkaline water." "Get some sea moss." I'm like, a nigga ain't never put no muthafuckin' alkaline water on no gunshot wound. I ain't never seen that. Alkaline water a bad muthafucka if it can do that. "What happen with the alkaline water and the sea moss, man?" Hell nah. People is crazy. I sit through all that though. I don't let none of that bother me. I see funny stuff.
You mostly focus on your own rap career and that of your artists as opposed to paying attention to other acts. When did that become the norm for you?
It ain't that. I got so much other stuff going on that I don't got too much more room to watch nobody else career. I got four artists, two [athletes], partners to help me, dead partners that help me, they families. Everybody got kids.
If we cross paths, we buddies. I wanna see you do good, but if we ain't cross paths, then I don't know you. I'm not just looking for no relationships. You know how people say, "I never been a networker?" I'm not a networker. I'm a product placer.
How has the experience on CMG been so far? And what's it like seeing the label's newest rapper GloRilla get more popular?
GloRilla be on the move. Shit, we with GloRilla, Gotti with GloRilla, we with whoever Gotti with, which means we with GloRilla, too. She killing 'em! And being part of CMG, shit, look at it, we doin' good. Google us. I know if they see it, it's lifestyle. We the lifestyle label. You can go check it out.
With you having your own label, are there things that you've taken or seen from Gotti that you are going to apply?
If you wanna do yo' thang, Gotti lets you do yo' thang. If you don't wanna do yo' thang, he'll help you do yo' thang. If you can't do yo' thang, he might do yo' thang for you. So, whatever he need to do, he's gon' do it to get it done. That's the best thing that I take from him. Let's do business. Might not always win, but we gon' do good business every time. And more than likely, we gon' win.
What do you have planned 2023?
The [EST] compilation is beginning of [2023]. I'm gonna drop my album again. And then drop another album, and just keep dropping albums and then I'm gonna keep just getting bigger and bigger until it's bigger than anything.
Buy the winter 2022 issue of XXL magazine on newsstands now or online at the XXL store.
Read EST Gee's interview in the winter issue of XXL magazine, on newsstands now. Check out additional interviews in the magazine, including the cover story with Pusha T as well as conversations with Chance The Rapper, Ab-Soul, Freddie Gibbs, G Herbo, DaBaby, EST Gee, Murda Beatz, Morray, Ice Spice, Jeleel!, Armani White, Destroy Lonely, producer Dez Wright, singer Kiana Ledé, actor Shameik Moore, plus a look at hip-hop's love for wrestling, a deep dive into how new artists get on in hip-hop these days, the ways in which women in rap succeeded in 2022, the rapper-run podcasts the game has grown to love and a tribute to rappers we lost in 2022.
See Photos of Pusha T's XXL Winter 2022 Issue Cover Story