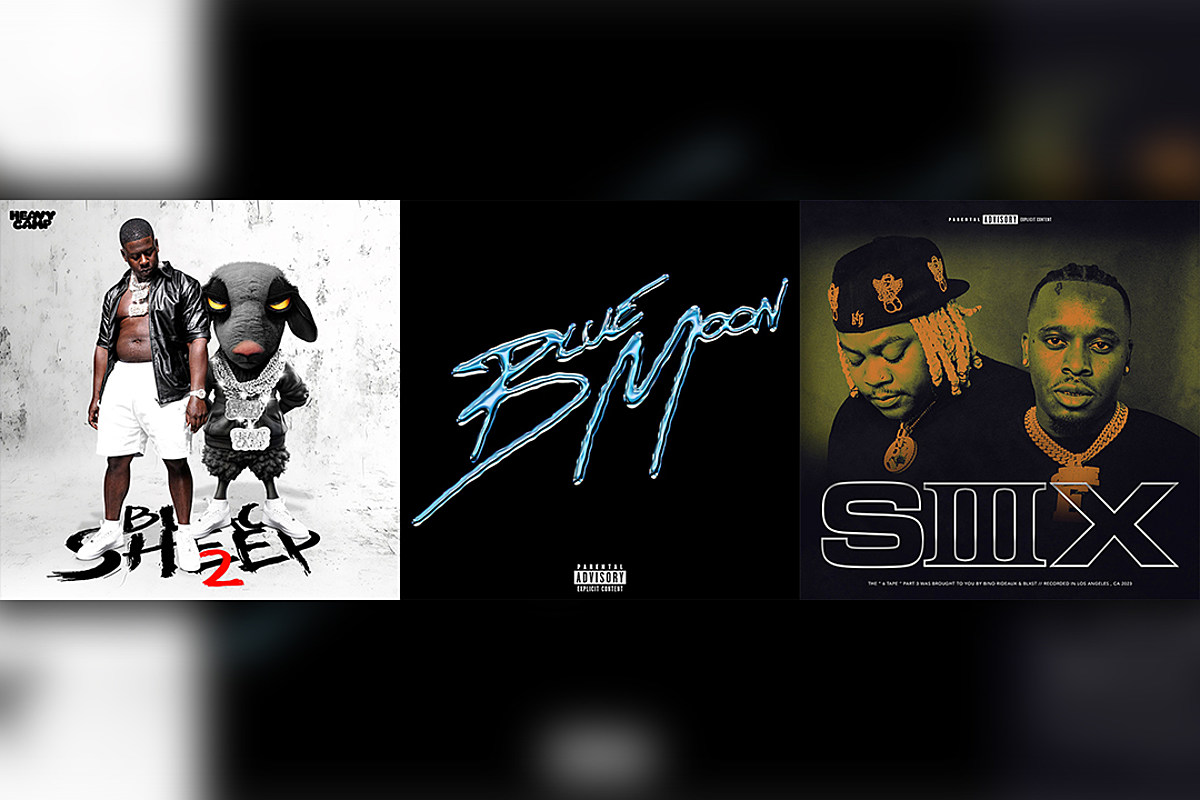 As the holiday weekend hits, hip-hop provides new releases to serve as the soundtrack while we kick back and enjoy the fruits of our labor. This time, a Boston native who also reps New Jersey gets emotional on her second project of the year, a hard-nosed Memphis rapper delivers another album for the streets, a pair of Los Angeles rap-crooners drop the next installment in a popular mixtape series and more.
Coi Leray returns with another batch of fresh sounds for 2023 in the form of her new EP, Blue Moon. The 5-track project arrives just two months after the Boston-bred rhymer dropped her sophomore album, COI, which spawned one of hip-hop's biggest hits of the year, "Players." While COI is packed with recognizable samples and party anthems, Blue Moon is a complete departure from that style and finds Coi Leray getting much more personal.
"This EP, I get deep, I get vulnerable," Coi Leray wrote about the Blue Moon project on Instagram earlier this week. "I for tired of 'trying' new things and wanted to just do what I do BEST. I have a hard time with telling my story because I get wrapped up in the media narratives however Music is the best way for me to tell it. It's my life story so why not let me tell it?"
Blac Youngsta is carrying on with a productive year with the release of Blac Sheep 2, his project to drop here in 2023. Following February's Bank Appointment mixtape and April's Blac Sheep, the sequel to the latter is led by the Tay Keith-produced single, "Mosh Pit." Blac Sheep 2 finds the Memphis spitter riding solo across 15 new tracks with no guest appearances.
To coincide with the project's release on Tuesday (Aug. 29), Blac Youngsta also dropped the official music video for the Blac Sheep 2 cut, "No Reason," on which he questions the violent nature of a younger generation. Black Youngsta's latest release comes less than two weeks after he publicly mourned the recent loss of his brother who was reportedly shot and killed in Memphis, Tenn. on Aug. 18.
Much to the pleasure of their loyal fan base, Blxst and Bino Rideaux unleash Sixtape 3, the third installment of the Sixtape series made popular by the two Los Angeles rap-crooners. After announcing the project on Twitter back on Aug. 15, Blxst shared a video of him and Bino Rideaux celebrating the third anniversary of the first Sixtape by popping bottles under a Sixtape 3 promotional billboard.
Blxst hit up Instagram on Aug. 25 to reflect on how far he and Bino have come as a result of their renowned mixtape series.
"I remember back in 2019 [Bino Rideaux] had 2 sold out dates in La and let me open up and rock out," Blxst wrote. "This back before I even had my own motion .. y'all knew the music before the face but the SIXTAPE is the foundation to it all … a soundtrack to La that traveled beyond the city we made history and still going shoutout to the ones that made it possible."
In honor of the project's release, Blxst and Bino Rideaux will be performing all three iterations of the Sixtape series in a string of four West Coast shows that each have already been sold out.
Check out other new projects this week from Smoke DZA and Flying Lotus, Blu and Real Bad Man and more below.
Uptown Records/Republic Records/UMG Recordings

Uptown Records/Republic Records/UMG Recordings

Blac Sheep 2

Blac Youngsta

Heavy Camp/Create Music Group

Heavy Camp/Create Music Group

Sixtape 3

Blxst and Bino Rideaux

EVGLE/Def Jam Recordings

EVGLE/Def Jam Recordings

Flying Objects

Smoke DZA and Flying Lotus

Smoker's Club Records

Smoker's Club Records

Jharrel Jerome

Jharrel Jerome

Bad News

Blu and Real Bad Man

Real Bad Man Records

Real Bad Man Records

Midwxst/Geffen Records

Midwxst/Geffen Records

Author: Joey Ech
Source link