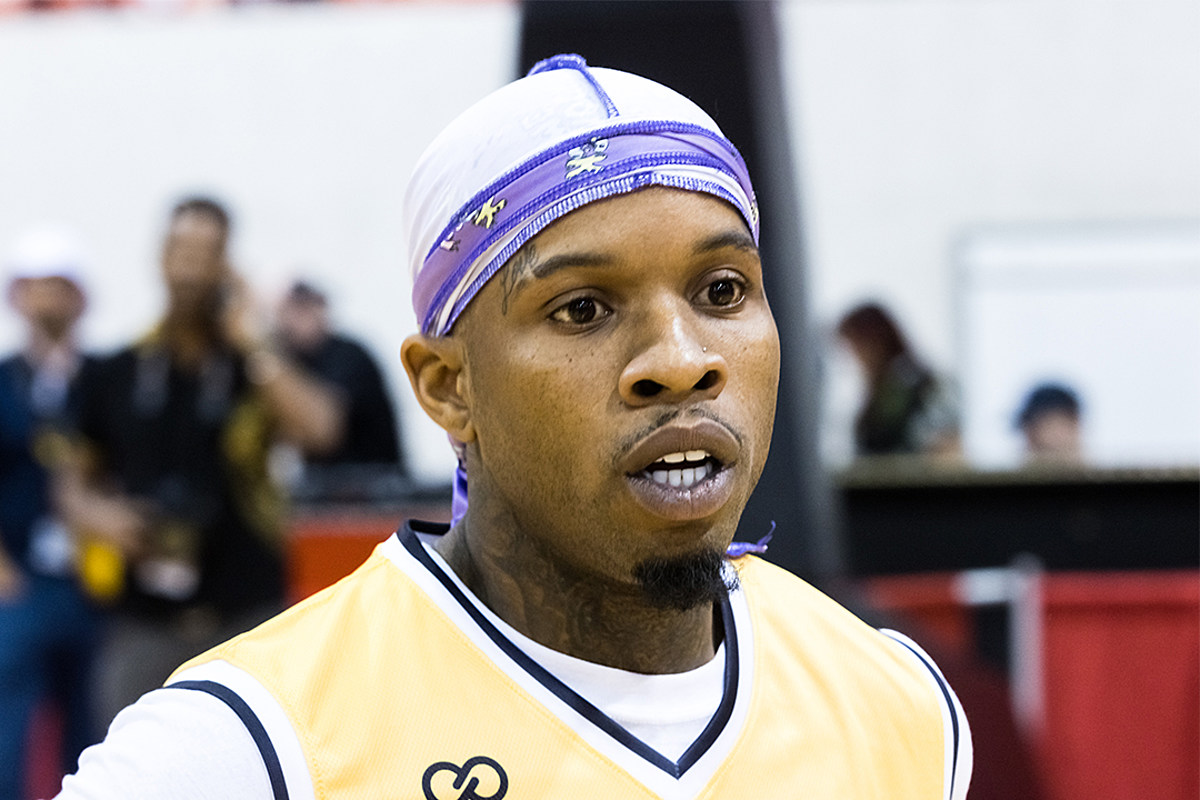 Tory Lanez now has a wife, according to a new legal motion regarding his bail.
A report by legal journalist Meghann Cuniff, published on Friday (Sept. 1), Tory Lanez is seeking a motion in the Superior Court of Los Angeles to be released on bail as he appeals his felony conviction and 10-year prison sentence for shooting Megan Thee Stallion.
According to the documents, if granted bond, he would live in Los Angeles with his wife, Raina Chassagne, and their 6-year-old son Kai. The couple plans to rent a home near Lanez's father, stepmother and other siblings.
This is newsworthy because Chassagne was initially reported as the mother of Lanez's child, but she is now known to be his wife.
"From his sentencing hearing engagement announcement to his bail motion wedding announcement, Tory Lanez's relationship status has advanced rapidly in the last few weeks. His fiancée is now his wife, according to the motion," tweeted Cuniff.
There is no information on when or how the couple got married. Chassagne was at the sentencing hearing on Aug. 8, when Los Angeles County Superior Court Judge David V. Herriford sentenced Tory Lanez (born Daystar Peterson) to 10 years in prison, with credit for 305 days served.
"Upon release, Mr. Peterson will maintain his sobriety, and have no contact with the victim nor shall he or any of his associates by his direction address her on social media or by other means," according to the motion, as reported by Cuniff. "Mr. Peterson is a well-known musician; abscond. He is a household name through his artistry and philanthropy."
A hearing is scheduled for Tuesday (Sept. 5) to discuss the motion filed with Judge Herriford.
XXL has reached out to Tory Lanez's attorney and his rep for comment.
In Cuniff's report, she interviewed several attorneys who said that bail motions pending appeal are rarely granted, especially for a violent crime like Tory's first-degree assault with a firearm conviction.
"Generally, to get bail pending appeal, you have to show a substantial likelihood of prevailing on appeal, which often means a substantial likelihood you can show error by the trial judge," attorney Michale Freedman told Cuniff in an email. "So it's pretty rare for the trial judge to find the defense can make this showing about the same judge's own rulings, especially after the judge has already denied post-trial motions raising those same arguments."
According to Cuniff, the appellate case file isn't online yet, but the trial court file shows they received notice of appeal on Aug. 10. The appellate process can take a year or two, or even more.
Overall, the 31-year-old artist is facing an uphill legal battle.
Check out the legal documents below, which identify Raina Chassagne as Tory Lanez's wife.
See Why These 25 Rappers Are in Jail or Prison Right Now

Author: Trent Fitzgerald
Source link