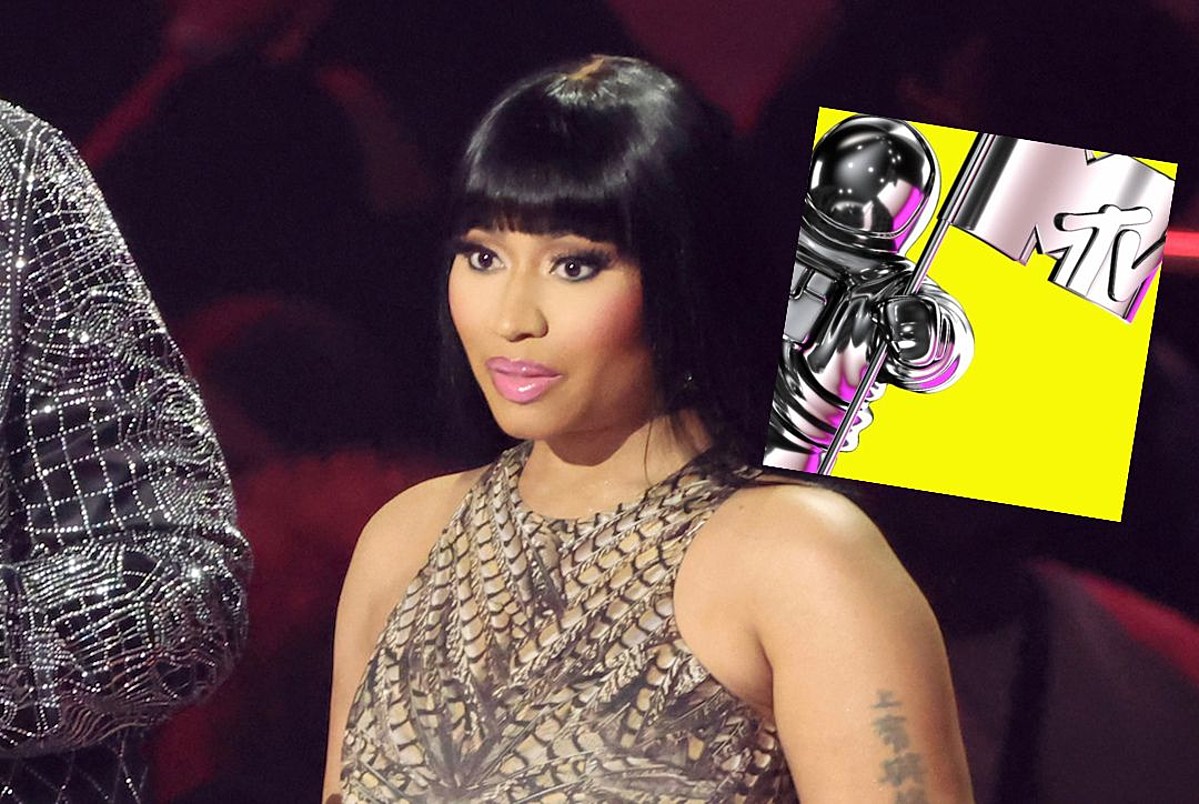 Nicki Minaj has been tapped to host the 2023 MTV Video Music Awards next week.
Nicki Minaj is back to host and perform at the 2023 MTV Video Music Awards. The New York rap superstar is resuming the same dual role she did last year with co-hosts LL Cool J and Jack Harlow. The VMAs will air live from Prudential Center in Newark, N.J., on Tuesday, Sept. 12 at 8 p.m. ET.
Last year, Nicki won best hip-hop video and received the Video Vanguard Award for her stellar videos during her venerable rap career. This year, Diddy is set to receive the Global Icon Award at the event.
As for the nominees, SZA leads the way with six nominations, while Doja Cat and Nicki are tied at five nominations apiece.
On Sunday (Sept. 10), Nicki Minaj hopped on X (formerly of Twitter) and jokingly asked: "Why would the @vmas let me host this show??? [tears of joy emoji] knowing I'm… different… [upside down face emoji] [face winking eye emoji] #Vmas see ya on the 12th NEW YAWWWK."
MTV has lined up a stacked list of A-list performers. Among the artists set to hit the stage next week include Doja Cat, A Boogie Wit Da Hoodie, Future, Cardi B and Megan Thee Stallion, Metro Boomin, Nav, Swae Lee and Lil Wayne who is performing his new song "Kat Food."
Check out the full nominees list below.
Video of the Year
Doja Cat – "Attention"
Miley Cyrus – "Flowers
Nicki Minaj – "Super Freaky Girl"
Olivia Rodrigo – "Vampire"
Sam Smith, Kim Petras – "Unholy"
SZA – "Kill Bill"
Taylor Swift – "Anti-Hero"
Artist of the Year
Beyoncé
Doja Cat
KAROL G
Nicki Minaj
Shakira
Taylor Swift
Song of the Year
Miley Cyrus – "Flowers"
Olivia Rodrigo – "Vampire"
Rema & Selena Gomez – "Calm Down"
Sam Smith, Kim Petras – "Unholy"
Steve Lacy – "Bad Habit"
SZA – "Kill Bill"
Taylor Swift – "Anti-Hero"
Best New Artist
GloRilla
Ice Spice
Kaliii
Peso Pluma
PinkPantheress
Reneé Rapp
Push Performance of the Year
August 2022: Saucy Santana – "Booty"
September 2022: Stephen Sanchez – "Until I Found You"
October 2022: JVKE – "Golden Hour"
November 2022: Flo Milli – "Conceited"
December 2022: Reneé Rapp – "Colorado"
January 2023: Sam Ryder – "All The Way Over"
February 2023: Armani White – "GOATED"
March 2023: FLETCHER – "Becky's So Hot"
April 2023: TOMORROW X TOGETHER – "Sugar Rush Ride"
May 2023: Ice Spice – "Princess Diana"
June 2023: FLO – "Losing You"
July 2023: Lauren Spencer Smith – "That Part"
Best Collaboration
David Guetta & Bebe Rexha – "I'm Good (Blue)"
Post Malone, Doja Cat – "I Like You (A Happier Song)"
Diddy feat. Bryson Tiller, Ashanti, Yung Miami – "Gotta Move On"
KAROL G, Shakira – "TQG"
Metro Boomin with The Weeknd, 21 Savage, and Diddy – "Creepin' (Remix)"
Rema & Selena Gomez – "Calm Down"
Best Hip-Hop
Diddy feat. Bryson Tiller, Ashanti, Yung Miami – "Gotta Move On"
DJ Khaled feat. Drake & Lil Baby – "Staying Alive"
GloRilla & Cardi B – "Tomorrow 2"
Lil Uzi Vert – "Just Wanna Rock"
Lil Wayne feat. Swizz Beatz & DMX – "Kant Nobody"
Metro Boomin feat. Future – "Superhero (Heroes and Villains)"
Nicki Minaj – "Super Freaky Girl"
Best R&B
Alicia Keys feat. Lucky Daye – "Stay"
Chlöe feat. Chris Brown – "How Does It Feel"
Metro Boomin with the Weeknd, 21 Savage, and Diddy – "Creepin' (Remix)"
SZA – "Shirt"
Toosii – "Favorite Song"
Yung Bleu & Nicki Minaj – "Love in the Way"
Best Direction
Doja Cat – "Attention" – Directed by Tanu Muiño
Drake – "Falling Back" – Director X (Julien Christian Lutz)
Kendrick Lamar – "Count Me Out" – Directed by Dave Free & Kendrick Lamar
Megan Thee Stallion – "Her" – Directed by Colin Tilley
Sam Smith, Kim Petras – "Unholy" – Directed by Floria Sigismondi
SZA – "Kill Bill" – Directed by Christian Breslauer
Taylor Swift – "Anti-Hero" – Directed by Taylor Swift
Best Cinematography
Adele – "I Drink Wine" – Cinematography by Adam Newport-Berra
Ed Sheeran – "Eyes Closed" – Cinematography by Natasha Baier
Janelle Monae – "Lipstick Lover" – Cinematography by Allison Anderson
Kendrick Lamar – "Count Me Out" – Cinematography by Adam Newport-Berra
Miley Cyrus – "Flowers" – Cinematography by Marcell Rev
Olivia Rodrigo – "Vampire" – Cinematography by Russ Fraser
Taylor Swift – "Anti-Hero" – Cinematography by Rina Yang
Best Visual Effects
Fall Out Boy – "Love From the Other Side" – Visual Effects by Thomas Bailey and Josh Shaffner
Harry Styles – "Music for a Sushi Restaurant" – Visual Effects by Chelsea Delfino and Black Kite Studios
Melanie Martinez – "VOID" – Visual Effects by Carbon
Nicki Minaj – "Super Freaky Girl" – Visual Effects by Max Colt and Sergio Mashevskyi
Sam Smith, Kim Petras – "Unholy" – Visual Effects by Max Colt / FRENDER
Taylor Swift – "Anti-Hero" – Visual Effects by Parliament
Best Choreography
BLACKPINK – "Pink Venom" – Choreography by Kiel Tutin, Sienna Lalau, Lee Jung (YGX), Taryn Cheng (YGX)
Dua Lipa – "Dance the Night (From Barbie the Album)" – Choreography by Charm LaDonna
Jonas Brothers – "Waffle House" – Choreography by Jerry Reece
Megan Thee Stallion – "Her" – Choreography by Sean Bankhead
Panic! at the Disco – "Middle of a Breakup" – Choreography by Monika Felice Smith
Sam Smith, Kim Petras – "Unholy" – Choreography by (LA)HORDE – Marine Brutti, Jonathan Debrouwer, Arthur Harel
Best Art Direction
boygenius – "the film" – Art Direction by Jen Dunlap
BLACKPINK – "Pink Venom" – Art Direction by Seo Hyun Seung (GIGANT)
Doja Cat – "Attention" – Art Direction by Spencer Graves
Lana Del Rey feat. Jon Batiste – "Candy Necklace" – Art Direction by Brandon Mendez
Megan Thee Stallion – "Her" – Art Direction by Niko Philipides
SZA – "Shirt" – Art Direction by Kate Bunch
Best Editing
BLACKPINK – "Pink Venom" – Editing by Seo Hyun Seung (GIGANT)
Kendrick Lamar – "Rich Spirit" – Edited by Grason Caldwell
Miley Cyrus – "River" – Edited by Brandan Walter
Olivia Rodrigo – "Vampire" – Edited by Sofia Kerpan and David Checel
SZA – "Kill Bill" – Edited by Luis Caraza Peimbert
Taylor Swift – "Anti-Hero" – Edited by Chancler Haynes
See Rappers With the Most Grammy Awards

Author: Trent Fitzgerald
Source link